Day 4, Part 1 is located HERE.
We head back over the bridge to the Gateway and grab a bench. About 3 or 4 minutes later, up strolls Brian! We do the hellos and figure out the first task at hand…LUNCH! Now, his birthday is tomorrow, so wherever we eat has to serve beer. The obvious place to sit down and have a beer is at the U.K. Since our DDP probably wasn't gonna work anyway, we didn't care if it was a counter service or a table service. The Rose and Crown, it is then! I didn't know where the check-in was, but we had a WDW veteran with us, and he steered us to the podium outside. It looks like they'll be able to fit us in. They gave us a pager that was finishing up its test buzz and told us to bring it up when it buzzed. Brian and I were on the same wavelength as we both mentioned that it was buzzing now and would like to be seated. "The second time it buzzes!!!"
The world showcase players were performing about 25 feet to our left, so we started walking towards them. We only got about 4 feet away…
Buzz.
The guy at the podium had this…well, you know what type of grin he had on his face as he basked in the knowledge that he got us.
We were seated, and we ordered the half-yards of Bass Ale:
You should have seen the eyes on the folks sitting nearby when they brought those babies out! Sheri wussed out and ordered an iced tea (she had to sacrifice the lack of Splenda and used the blue stuff I think). She had a taste of mine and concluded that it tasted like beer and that she didn't like it. It's the United Kingdom…what else but order the fish and chips (all three of us)! We gabbed and enjoyed the beautiful weather (seated outside) as we waited for the food. Bris mentioned that Glo posted on the Lodge that she was in an accident the previous day and had to go to the hospital…sore, but okay (whew).
The food was brought out by a girl with an awesome Irish accent. The last place we ate at (Mama Melrose's) left a bad taste in my mouth (literally and figuratively). I took a look at the fish and immediately wondered just how big that fish started out as…holy cow that was a lot of fish! Then I dunked it in tartar sauce and took a bite.
That may have been the best fried fish I have ever tasted!
As we finished up, Brian was nice to me and gave me some sound advice on drinking from the half-yard – beware of the bubbles near the bottom where the container flares out. Otherwise I would have covered myself in beer. We paid and decided to pay France a visit and try out one of those Grey Goose Citron lemonade slushes that Pat recommended (or the Grey Goose Slushie, as we called it).
Photo courtesy of "The Big One", which is what all the Lodgers gave as a nickname for Brian's huge camera.
PixiePat…I love you! Awesome beverage! Brian got one, and Sheri and I started out splitting one.
Until we got to Japan.
Then Sheri got a plum wine.
…and I was left to finish said slushie thingy off by myself.
About 6 minutes later, we were in Germany, and you can't pass Germany without a beer. We downed our slushie thingys, and I got in line for some Franziskaner:
Oh, and Sheri had inhaled the plum wine (best she's had) and got a sweet white wine:
We didn't even realize that we were kind of doing a modified version of "Drinking Around the World" until about now. Sheri, starting to feel the effects a bit, announced that she had to "break the seal" (I was floored that she said that), so we stopped at Norway so I could check out to see if the rumors about the hotties there was tru…..ummm…I mean, to see if the female gendered Norwegian cast members were as attractive as rumored. We didn't see any, in part because Norway was crazy because today (May 17th) is Constitution Day (a national holiday in Norway). The Norwegian flag was everywhere…they took pride in it there, you could tell. Brian and I sat on a rock ledge and talked while we waited for Sheri. I stowed our camera, and Brian put his camera down to do some re-arranging with all that he was carrying.
As we talked about good spots to view Illuminations, Sheri returns from the seal breakage. We got up and headed over to Mexico, where Brian introduced us to the fiesta margarita. One for him and one for Sheri (I was still finishing up the German bier)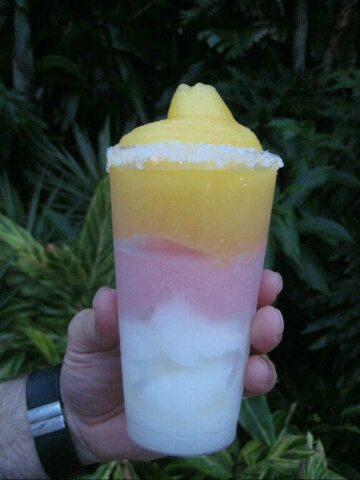 Picture stolen from the net.
Hey, since we're all here, let's go into Mexico and see how the wait is at the new boat ride. Can we take booze in the temple? SURE! "It's Mexican liquor" Brian rationalizes. He and Sheri start up the stairs, and I start pouting at the bottom of the stairs…I had German booze. "Just tell 'em it's Dos Equis," retorts Bris.
I smile and start heading up with Brian stops suddenly and freezes. He looks around and looks at what he was carrying.
Sheri and I realize it at about the same time what the problem was.
WHERE IS HIS CAMERA??????????!!!!!!!!!!
He asks Sheri to hold the bag he was hauling and starts jogging over back to Norway. I make sure Sheri is okay with holding everything, and I follow him in trail, scanning the crowds walking towards me for someone who may have picked it up.
About 45 seconds later, I see him walking back with a "thumbs-up" and a look of utmost relief on his face. It was right where he left it when we were talking.
He shows Sheri The Big One as we approach, and you could see the relief on her face too (get your minds out of the gutter, folks!). He pretty much downed half of his margarita in one gulp (how he did NOT get a brain freeze, I'll never know!). "I have NEVER done that before…now I know what it's like to lose a kid!"
Whew.
Time to go into the Temple and chill for a bit. We walk in and are promptly turned away from the Gran Fiesta ride with the booze. I mentioned that we could look at the casa they have set up here.
Sheri and Brian both look at me as though I had drank a half-yard of beer, a slushie thingy, another beer, and part of a margarita in the past 40 minutes.
"No, I'm serious! It was on Deb Wills' site!!! Here, let me ask this hot Latina CM in the gift shop!"
She (the hot Latina CM in the gift shop) also looks at me as though I just drank a keg.
FYI, I didn't make this up!!! Casa Mexicana…it has 2 levels! Honest! It is supposed to be RIGHT WHERE WE ARE CURRENTLY STANDING!!!!!
I accept defeat, and we make our way back out. Hey! We have Soarin' fastpasses, and, of course, they just expired. I know that there have been reports that say CMs will still let you use them, but I didn't feel like taking the chance. I should have given them to someone to use a while ago. Still, we can do the standby line still. Everyone agrees, and we start heading over to The Land. Brian sees a CM with a pin board, and his Pavlovian instincts kick in. He follows her and looks over the board. I couldn't get my camera out fast enough because he was heading back within a minute. I ask him if we can stop by Innoventions West to see if they have the Visa photo thing going. They do! We told Brian he could come in too, but he decided to stay out and check out the video games they had out there.
Sheri and I both think back to the first day of our last trip (with Aaron) where we were worried about Aaron and the characters. When he let go of our hand and sprinted to Goofy and Minnie, we knew he would be fine and that those pics alone were worth the trip in itself. We head in and see Pluto standing there! As we turn around for the Photopass guy, we notice Mickey hiding behind a short fence. He runs out and joins the pics. The boys would have melted into a gelatinous goo had they been here to see that.
We head back out and find Brian saving the world with either Nemo, the Incredibles, or Buzz and Woody (couldn't remember). We hop in the standby line which still went pretty quickly. We talked about a lot of different things, ranging from family to Cruises. We made our way through, and Brian asked if we could get center section, middle of the top row. "All ya gotta do is ask", he said. We watched Patrick Kronkburton one final time and headed in.
We are sooooo glad he asked. While the other times we rode it were great, not having feet dangling above you and being in the very center of the screen was perfection!
Part 3 is located HERE